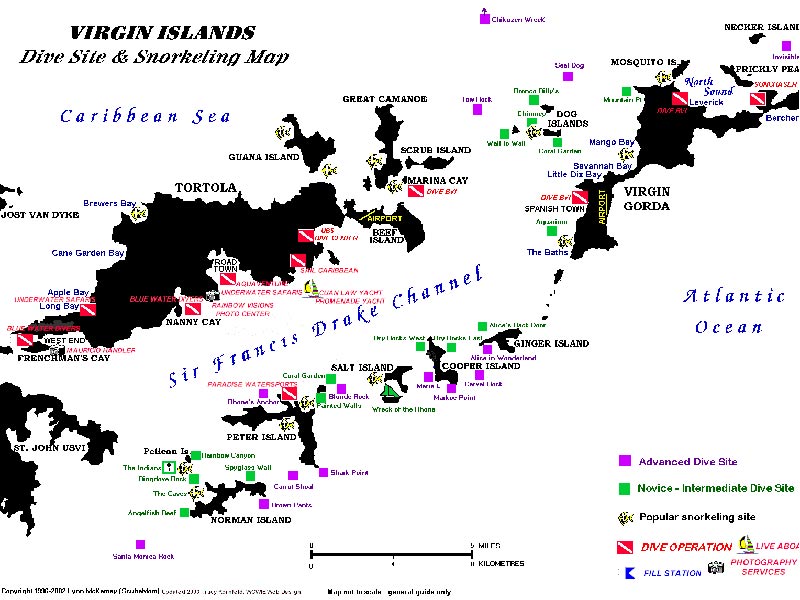 With reefs teeming with large fishes and healthy corals, the Virgin Islands are the ideal place to learn to SCUBA dive or to continue your dive training and to learn about marine biology, Braveheart offers on board training as well. There are many shipwrecks to explore including the HMS Rhone and the Chikuzen. The water is crystal clear and most dive sites are protected from the waves providing for comfortable entry and exit from the water.

Renown as 'the sailing capital', smooth waters and steady trade winds provide exciting inter-island passages and allow your sailing skills to develop quickly. The islands are close together so it's easy to visit them all, and each has its own unique charm, from cactus covered uninhabited desert islands to towering rainforests. There are endless opportunities for adventures hiking, kayaking, and trekking. The calm coves are our relaxed base to explore the marine kingdom, carve deep-arcs waterskiing and drift asleep under the stars. Braveheart has been sailing and diving the Virgin Islands for years and will bring you to dive sites not on the usual routes..

At the center of an enchanting archipelago, sweeping like giant stepping stones from Florida to South America, lies a group of beautiful and pristine islands with fascinating biological, geological and cultural history. These mountainous volcanic islands emerged next to the Galapagos and, over the eons, plate tectonics has pushed them northeast over two thousand miles. Some are tall and trap passing clouds producing dense green vegetation and rain forests, others are smaller and drier. Swept by steady trade winds, all have perfect coconut palm fringed beaches surrounded by crystal clear waters and colorful reefs.