Your Hosts Jerry and Dawn Blair
With many years of Virgin Islands experience, Jerry and Dawn will help you create the vacation of a lifetime!
Your Hosts Jerry and Dawn Blair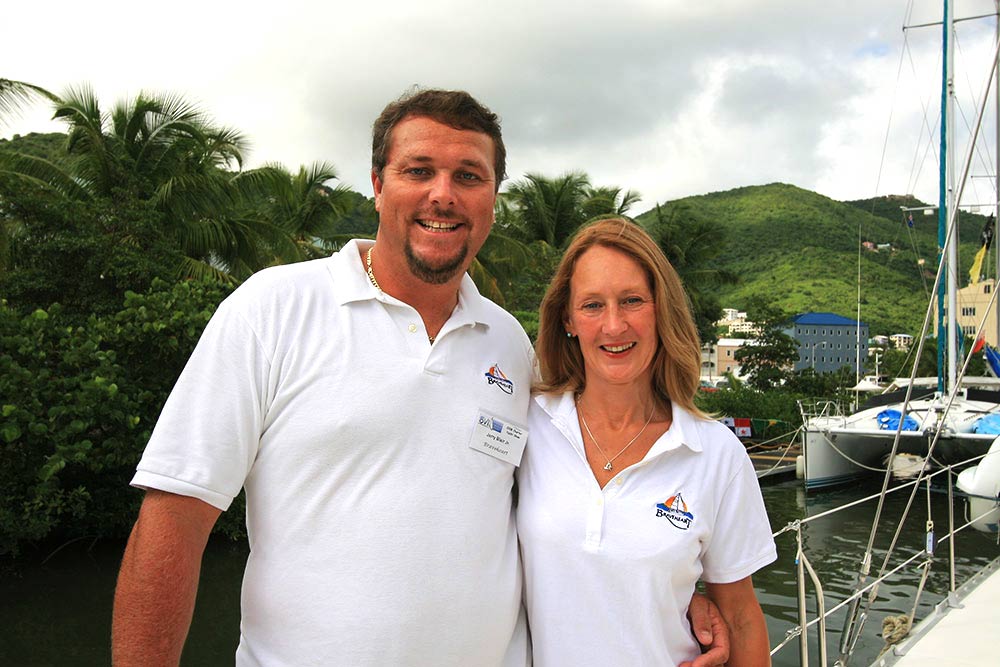 Captain Jerry Blair
Captain Jerry has been sailing since he was 2 years old and has sailed extensively throughout the Northeast USA, and Caribbean and has undertaken several Trans-Atlantic crossings. He holds a 100 ton USCG Masters license and is also a NAUI Scuba Instructor and PADI Divemaster, as well as a US Sailing Instructor. One of Jerry's great loves is teaching and as an avid water sports enthusiast he enjoys sharing all his varied knowledge with friends and guests. Jerry teaches lots of SCUBA courses from first time resort courses to full or advanced diving certifications. After residing in the Caribbean Islands for 13 years, Jerry is a good source of local knowledge and history which ensures every trip is unique, fun and interesting. He is gregarious and loves meeting people..
Chef Dawn Blair
Dawn Blair is British, coming from North Wales originally. She grew up on the coast and living by the sea she spent many happy hours with her family on boats. She passed her love for sailing onto her two children, who have taken to the sport as well. Dawn has always enjoyed cooking for her family, friends and charitable events. She is a trained RGN nurse, specializing in paediatrics, community, and ophthalmic nursing, and has most recently worked as a medical equipment consultant. Her career of helping people as a nurse inspired her to start fundraising for causes she believed in. As the years went on, the scale of her fundraising and the distances she went to, grew. Dawn's passion for the outdoors has led her on cycling tours through Vietnam, hikes up the three highest mountains peaks of Great Britain, and numerous sailing events such as Cowes Week. She has taken part in many long distance offshore sailing races, most notably the Fastnet Race. Her largest fundraiser generated 100,000 English Pounds for Sail4Cancer. She was involved in forming the first "all female" team to compete in the Non-Stop Around Britain and Ireland Race in 2006. One of her many duties onboard was as bowman and foredeck crew but she was also the cook. Her experiences of cooking on racing boats led Dawn to produce the Swell Food recipe book, for sailing enthusiasts. All proceeds were donated to Sail4Cancer, enabling children suffering from the affects of cancer to have sailing opportunities. Her passion for sailing and travelling has led Dawn from London to the Caribbean. Her European, Mediterranean, and Asian influences will win you over with regards to her cuisine but it is her caring nature, attention to detail, and constantly striving to improve that will be the lasting impression that stays with you for years to come.